---
Join Peggy Foster for Qi Gong, Christian Platt for an immersion in sound from crystal bowls, drums and many wisdom tradition instruments, meditation practice with Christian Cole and inspiring conversation about the MOMM-entum of enthusiasm with Sue Cooper & Gill Harbach.
---
What can I expect?
We join together to spend a day immersed in healing sound, movement, meditation and companionship.
---
How much does it cost to attend?
Tickets to the physical event are just £15 for the whole day including all activities and a vegetarian lunch.
To book tickets for the physical event at the Monastery click here.
If you'd love to join in but can't physically be with us on the day, you can join us on Zoom for free.
To pre-register for Zoom and join us online, click here.
We're very much looking forward to being together again, see you on Sunday.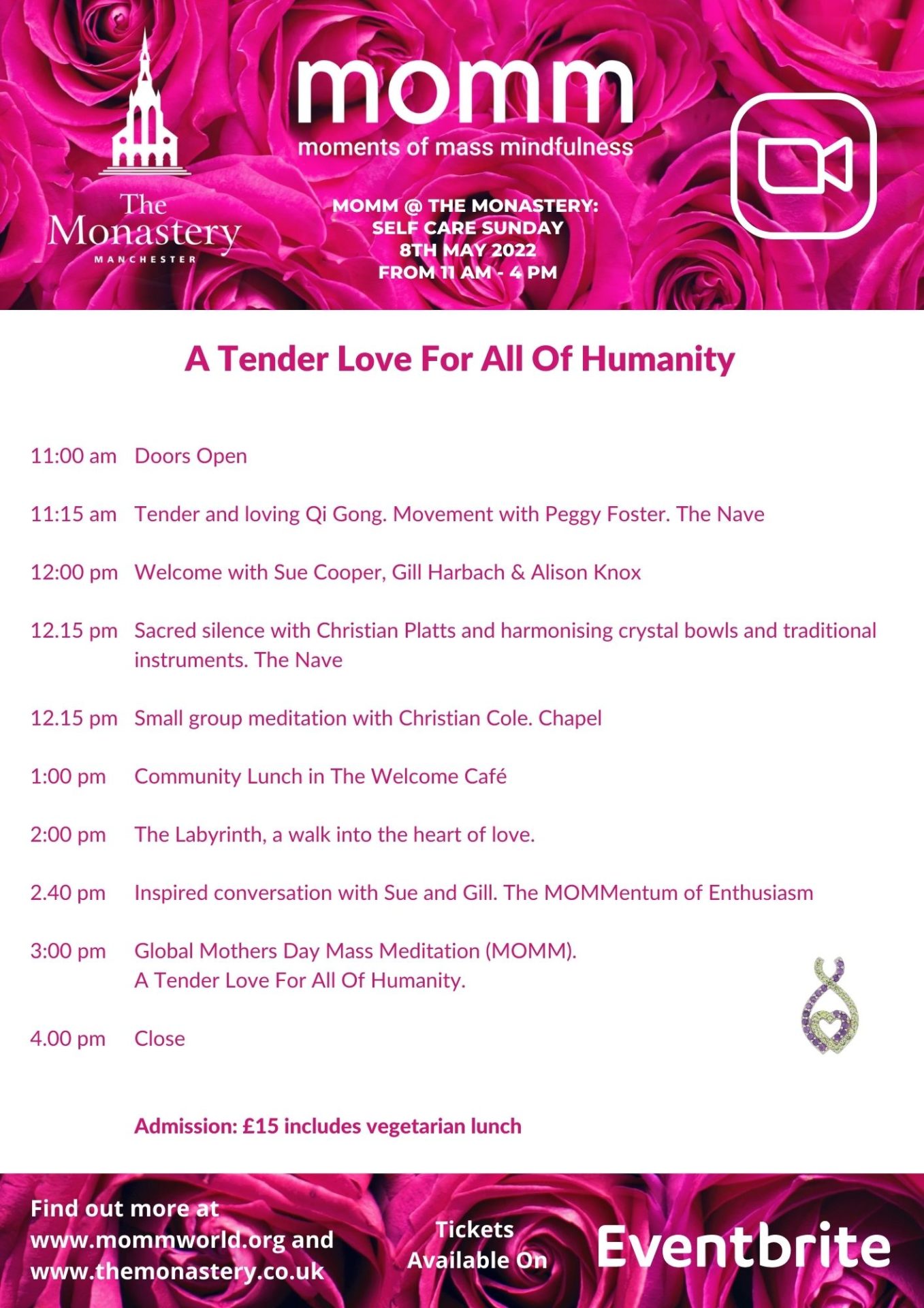 ","location":[{"@type":"Place","name":"The Monastery Manchester","address":{"@type": "PostalAddress","streetAddress":"89, Gorton Lane"}}],"offers":{"@type":"Offer","price":"15","priceCurrency":"£","availability":"http://schema.org/InStock","validFrom":"2022-5-8T11:00+1:00","url":"https://www.themonastery.co.uk/events/momm-self-care-sunday-global-mothers-day/"},"eventStatus":"https://schema.org/EventScheduled"}
sun08may11:00 am4:00 pmMOMM Self Care Sunday: A Tender Love For All HumanityJoin MOMM for a day immersed in healing sound, movement, meditation, companionship, and lightness of being.11:00 am - 4:00 pm