Join Us for Food & Drink at Our Wonderful Welcome Café
Open Sunday-Thursday, 10am-4pm
Our Welcome Café is the place to get food and drink here at Manchester's modern-day Monastery. We're open from 10am-4pm (Sunday-Thursday) and offer you the perfect place for morning coffees & teas, snacks or a meeting. Enjoy hip, healthy, homemade food in stunning surroundings.
Our peaceful interior garden is a delight if you fancy an alfresco nibble, or our bright, airy indoor space is a lovely spot for either socialising, a working lunch (there's great wifi too) or simply taking time out to wander around and admire the wonderful architecture all around.
Scroll down for full menu
NEW Superfood Lattes
Behold our fresh & funky new range of wellness lattes – they don't just give you a boost, they deliver a healthy shot of superfoods into the bargain.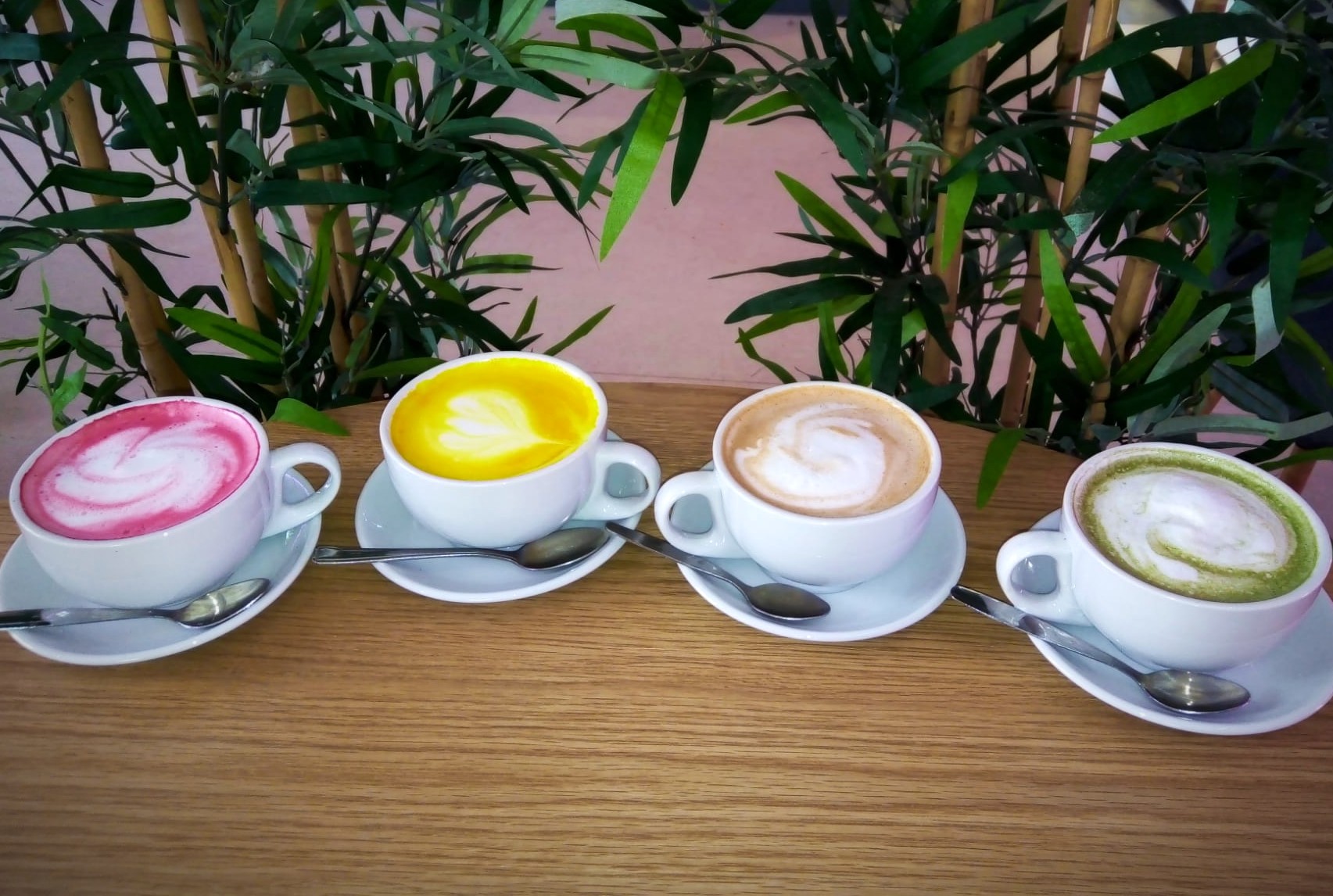 Proudly presenting, from left to right on the photo above, first our vibrant beetroot latte, which not only tastes delicious but can boost blood flow, lower blood pressure, is anti-inflammatory and good for liver health. Teamed with a shot of syrup it's our favourite Monastery latte.
Next along is our turmeric latte – this is a positive power house of health benefits. The turmeric latte is our own special monastery blend, turmeric, ginger, cardamon and black pepper; its health properties are impressive! The curcumin in turmeric is a powerful bioactine and together with black pepper which magnifies is absorption properties by 2000, it can help fight cancer, is a natural antioxidant and can boost brain power, pow!
Next along is our chilled-out chai latte – a delicious and soothing blend of warming spices that can soothe your cares away. And, relax…
Last but certainly not least is our mighty matcha latte – as well as its anti-inflammatory properties it can help lower 'bad' cholesterol, reduce the risk of heart attacks, help with weight loss and protect the liver. A sure way to power up your day!
All of our lattes can be made with a choice of either dairy or a range of plant milks (soya, oat or almond).
Curious? Come & give 'em a try!
---
Buddha Bowls
Bursting with goodness and featuring sticky rice, piled with vibrant raw veggies and finished with our delicious toppings and sauces.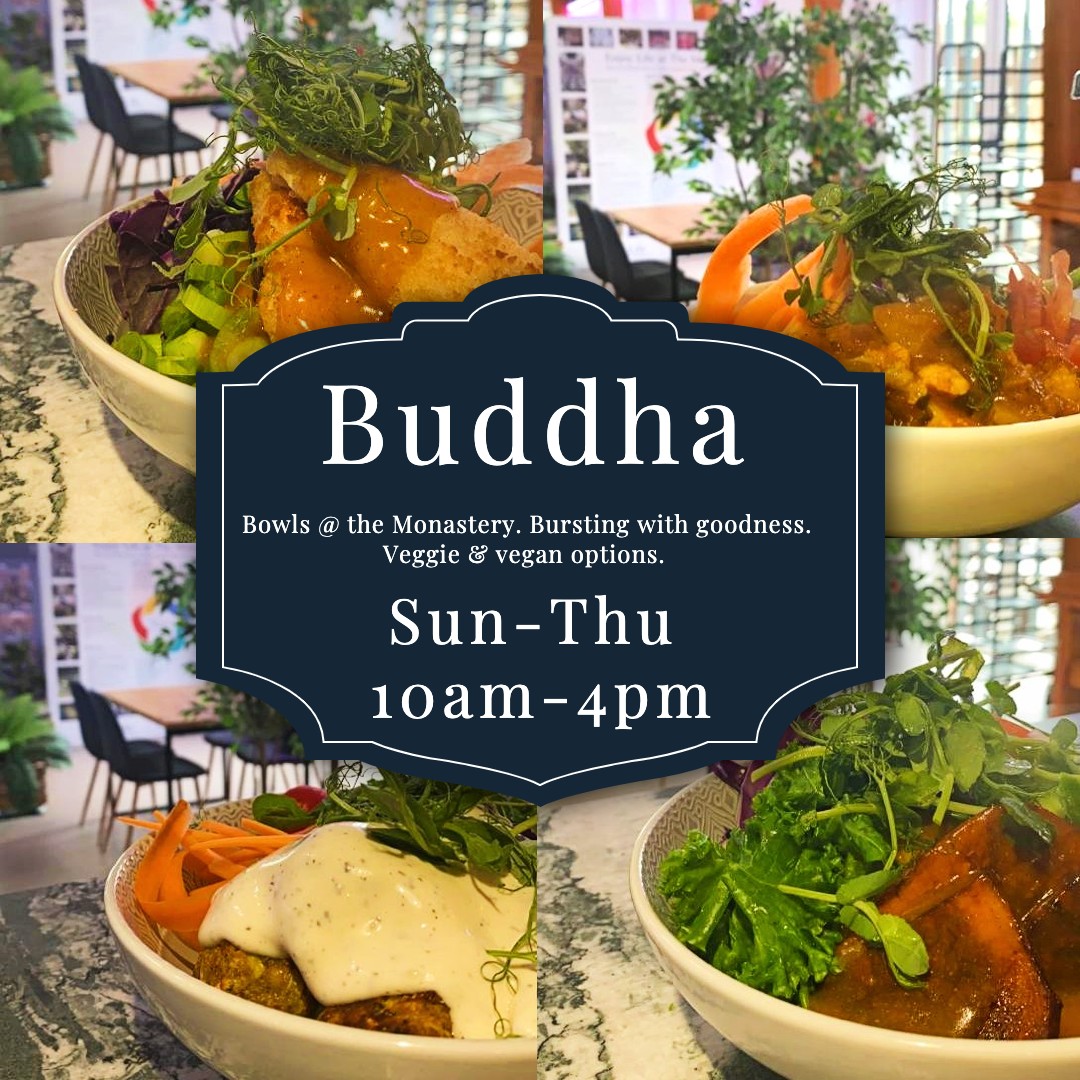 Clockwise, from left to right
1. Chicken katsu Buddha bowl: chicken tenders topped with a sublime, sweet and smooth Japanese katsu curry.
2. Aloo gobi Buddha bowl: topped with a spicy mix of cauliflower and potato in a balti curry, it's warming, healthy and wonderfully hearty.
3. Dreamy sweet potato katsu Buddha bowl: with soy and sesame roasted sweet potato and that delectable katsu sauce.
4. Fabulous falafel Buddha bowl: crunchy falafel balls and a mint yoghurt dressing – the perfect blend of spice and cool.
---
Superfood Salad Jars
Bursting with health and vitality & a delightful combo of taste and virtue.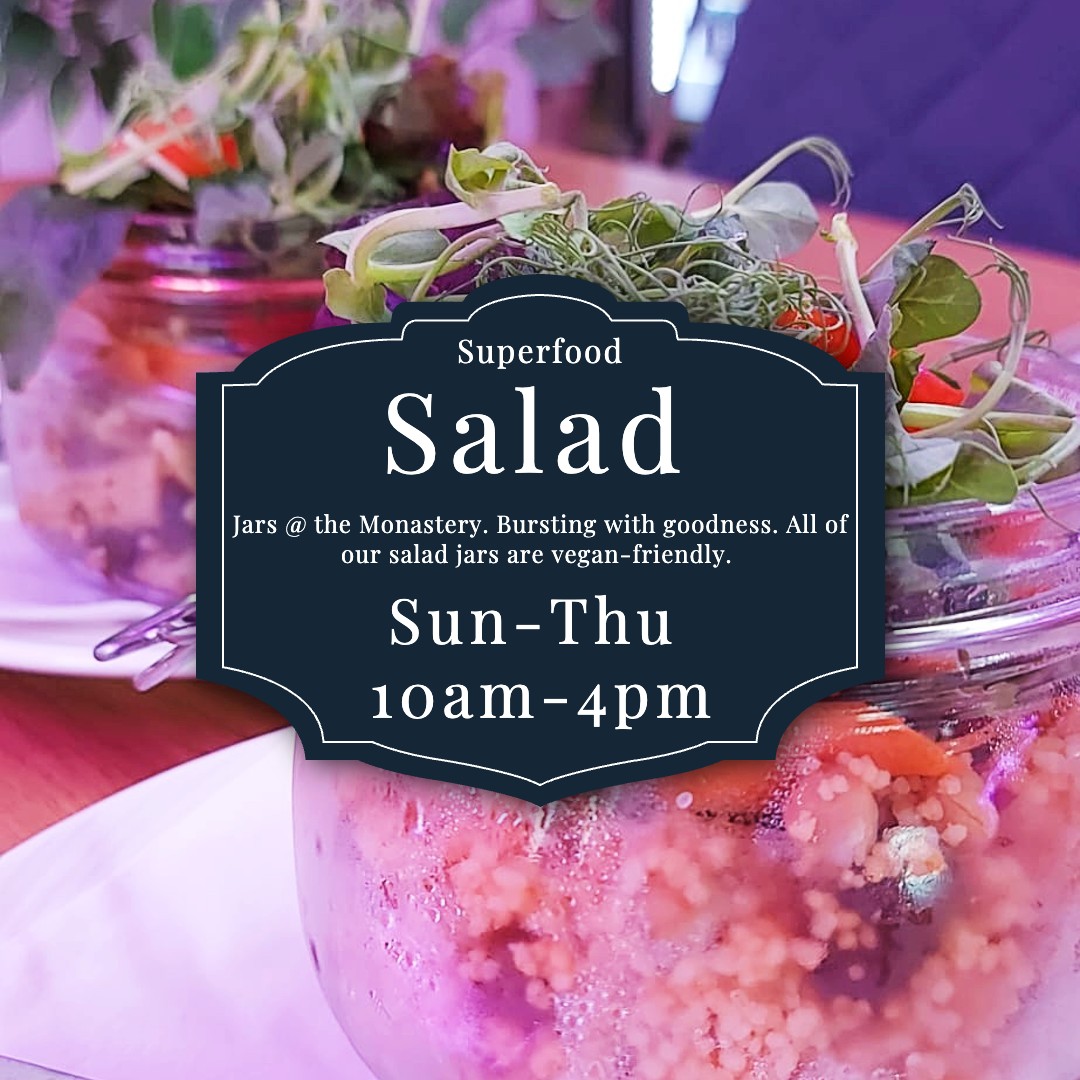 'Superfood' is a catch-all modern terminology that lets you know your food is a bit healthier. Superfoods such as kale, spinach, sunflower seeds, garlic, olive oil and soybeans all feature in our Superfood Salads. We also use brown rice and pasta as it retains more macro nutrients, twice as much fibre and packs in more of your essential vitamins.
Our Moroccan salad has couscous, chickpeas, harissa, and sultanas for a sweet and concentrated kick of fibre and vitamins, we then packed our jars with lots of lovely salad and shredded raw veggies. Couscous is loaded with selenium – a powerful immunity booster.
The Tokyo Super salad is a real flavour punch, brown rice and soybeans, a tangy shichimi slaw, topped up with fresh salad leaves.
As classic as it gets, the Genoa salad has wholegrain pasta in a kale and pesto dressing with sunflower seeds, topped with shredded raw veggies and salad
You choose if you want to load your salad with one of our delicious dressings, mayo, vegan mayo, soy vinaigrette, mint yogurt or caesar.
ALL of our salads are vegan friendly
Booking & Full Menu
Vegetarian and vegan options are available across the menu.
You can call (0161) 223 3211 to either enquire or book, or contact us right here.
Feast your eyes on our brand NEW summer menu!
Open Sunday-Thursday, 10am-4pm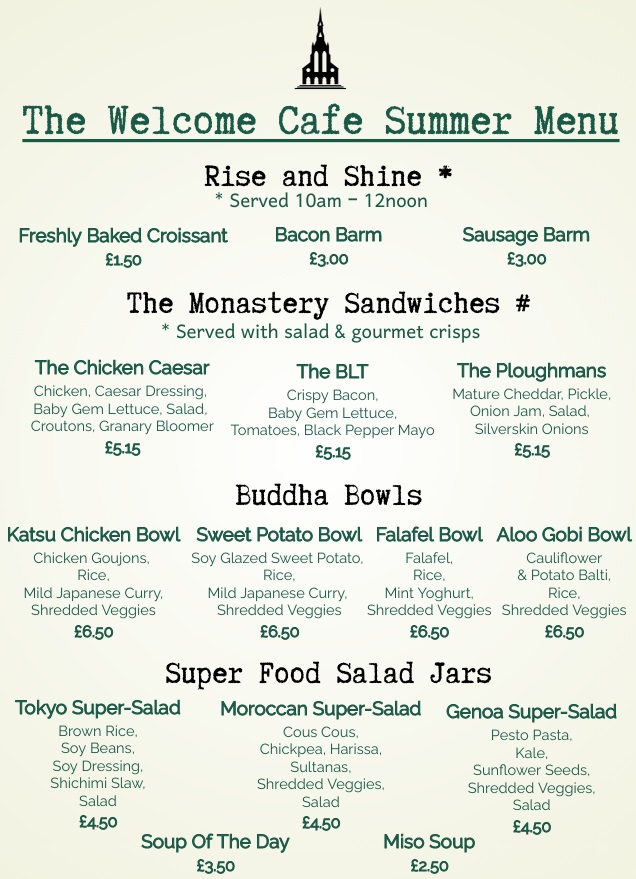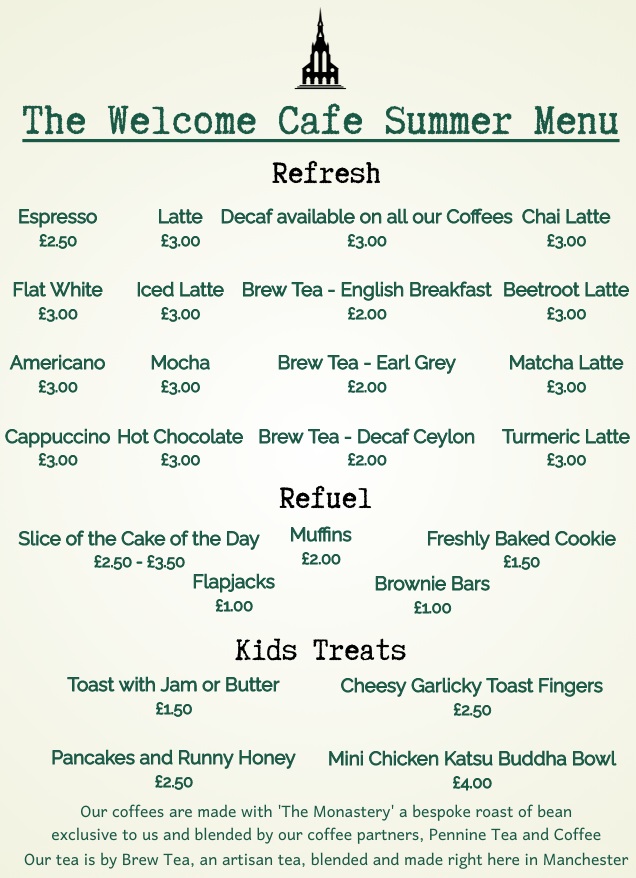 Open Sunday-Thursday, 10am-4pm. Free entry & parking at the Monastery.