sun05dec11:00 pm4:00 pmMOMM (Moments of Mass Mindfulness)Join us for a day of self care, movement, meditation, music, conversation, community and much more11:00 pm - 4:00 pm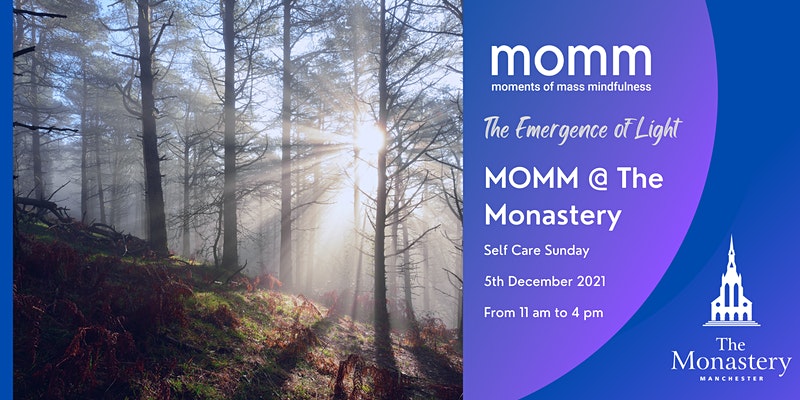 Event Details

Come and experience a light-based day of self care, movement, meditation, music, conversation, community and much more with MOMM, from the magnificence of Manchester Monastery, where light and sound is embedded and resonates at 528Hz and above.
What is MOMM?
MOMM (moments of mass mindfulness) – inspired by the 1993 Washington DC experiment that saw thousands of participants use meditation to bring about a more peaceful community – is an organisation dedicated to bringing people together, often globally, for synchronised meditation sessions.
In fact, In September 2019 for the U. N. International Day of Peace, in partnership with HeartMath Institute, Campaign Nonviolence, Pathways To Peace and Peace One Day, MOMM took place in 46 countries with 536 events and over 15,000 people.
In their own words:
"For a second, close your eyes and picture this: people from around the world assembled in mass meditation sitting shoulder-to-shoulder in a shared moment of silence, their eyes closed and minds free from any cultural or religious differences. MOMM is focussed on peace, building community and connection. MOMM is an opportunity to collaborate and create powerful change."
Each month, MOMM has a different theme. The next event's theme is The Emergence of Light.
The Emergence of Light
The jewels of light carry vibrations that are embedded within our very being. We have access to these energies and frequencies through the wisdom of ancient traditions, in the now, and integrate into a brighter, lighter world.
Join in and FEEL, deeply feel, the wisdom within and know what it is to be light, be love and fully alive.
How can I join in?
Tickets to the physical event cost just £15, including all activities and a vegetarian lunch.
If you cannot attend the event in person and you'd like to participate in the collective meditation, you can do so virtually via Zoom. Participation is free.
Time

(Sunday) 11:00 pm - 4:00 pm
Location

The Monastery Manchester

89, Gorton Lane