thu18may12:00 pm1:30 pmHigher Frequency Attunements by Alison LevesleyGet realigned and energised with this sacred oil attunement12:00 pm - 1:30 pm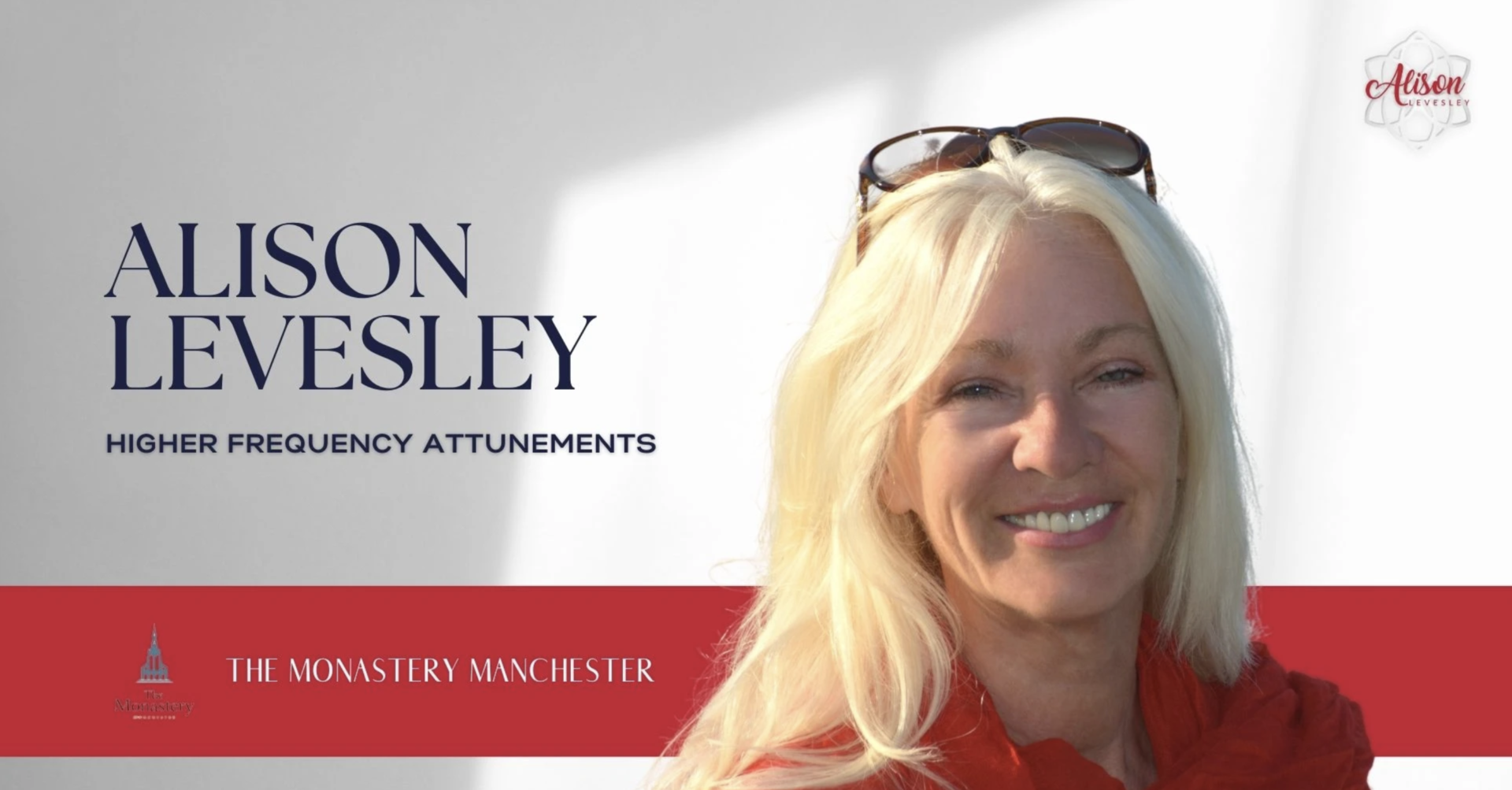 Event Details

You are warmly invited to join Alison Levesley for these high frequency attunement sessions, in the beautiful surroundings of the Monastery.
---
When?
12:00 – 13:30, 18th May, 2023   
AND/OR
12:00 – 13:30, 28th May, 2023
---
About Alison Levesley
In September 2022, Alison was aware of changes coming into her life. During meditation, Alison was asked by the Divine Mother to receive the honour and gift of Attunements and to share this gift whenever invited.
In Alison's own words
"This attunement came through me to show me the experience and bring me new frequencies. Once integrated, I saw symbols, images, numbers, essences, and plants to be integrated through me – all infused with light. I was then asked to place these into a high-quality oil to be used in the Attunement Healing Protocol. Next came the understanding of what it would do, including the method I would use to pass it on."
What is an attunement?
The attunement is individual, yet held in groups. Alison works one person at a time. Tuning into you, she senses what is needed. The oil is placed on your head and onto her hands. She moves around you, placing her hands on various parts of your body (physically or with energetic intention depending on whether you are in person or online), visualising, internally speaking into you, energetically cleansing on many levels, and attuning/integrating you to new higher frequencies.
Alison has developed Sacred Oil Protocols. The Sacred Oil Attunement is one of the five Sacred Oil Protocols, which offers the sacred rituals and meditations included with the protocol.
---
How will I benefit from an attunement?
There has already been remarkable feedback from people. Experiences so far include:
Long-term depression released
Cellular renewal
Waves of love coming from Alison
Release of pain after seven years
Reconnection with joy
Reconnection with the God of their understanding
Awareness of greater unity and healing purpose
Reconnection with life purpose
Realignment of body
Opening of 3rd eye
Someone singing in a foreign language they do not speak 🙂
Family healing and connection
Weight loss
Feeling taller
Reenergised
Good sleep
Peace
Empty mind
A surge of love
---
How much does an attunement cost?
These attunements are donation based.
---
How do I book?
Click here to book your attunement.
For enquiries please whizz an email to alison@alisonlevesley.com
---
More information
You can find out more about Alison Levesley by clicking on the links below.
---
Directions to the Monastery here.
Time

(Thursday) 12:00 pm - 1:30 pm
Location

The Monastery Manchester

89, Gorton Lane