Heritage and Well-being: Guest Post
A 6-minute read.
Editor's note: This guest post was written by our postgraduate placement students, Emma Gossage and Jenny Jackman, who are studying Cultural Heritage Management at The University of York.
Heritage and Well-being: Guest Post
Over the past year, the coronavirus pandemic has made us all more aware of the importance of looking after our health and well-being. As we have been forced to stay at home, many of us have felt the effects of loneliness and isolation.
There has been a growing recognition of the value that in-person social activities (such as visiting friends and family and engaging in cultural activities) has on our mood and emotions.
Heritage can help to increase these positive emotions and benefit overall well-being. But how?
Heritage sites have the potential to be much more than places to go to learn about history and see old objects. Heritage venues, such as churches, historic houses, museums and galleries, have the power to give us a sense of rootedness, identity and community.
Connecting heritage and well-being has the potential to enhance wellness. The unique experiences the spaces offer, through their history and heritage, can be places of safety and support for well-being projects.
At Manchester Monastery the historic spiritual spaces provide opportunity for silent contemplation and mindfulness without the structures of a traditional religious space, which could be alienating to some individuals.
Can well-being be defined?
Understanding well-being can be difficult at first, especially as it goes far beyond just mental or physical health.
The World Health Organisation first defined well-being, in 1948, as:
 "A state of complete physical, mental and social well-being and not merely the absence of disease or infirmity".
 Well-being is much more than just our mental or physical state. It includes anything that makes up who you are as a person and those things that affect your ability to live your life well – at any stage – regardless of physical or psychological differences.
It can include socioeconomic health (like your access to employment) as well social connections and your sense of belonging.
The What Works Centre for Wellbeing defines well-being as:
'"How we're doing" as individuals, communities and as a nation, and how sustainable that is for the future". 
Well-being is holistic, connecting individual aspects like the body, mind, and spirit with external aspects such as your connection to people, place and the planet.
The mental health charity, Mind, have illustrated this in their 'Wheel of Well-being'.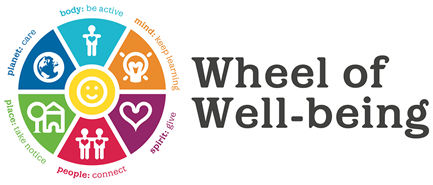 Well-being and the historic environment
It is estimated that 1 in 6 adults in the UK experience at least one diagnosable mental illness per year. It is likely that the effects of the pandemic have greatly increased this number over the past year.
Research shows that combining heritage and well-being can positively affect an individual's mental and physical health by providing a sense of community, increasing confidence and reducing social anxiety.
There are many more benefits, both tangible (physical things you can see or touch) and intangible (things you can't see but can feel and know are there like emotions and opinions).
Here are just a few of the benefits:
Sense of identity and community

Boost in confidence and social skills

Feeling much more connected to your heritage and the place you live

Feeling safe and stable

Feeling increased empathy for other groups or points of view

Making new friends and building social and professional networks

Increasing exercise and physical health; generally being more active

Developing career opportunities and new skills

Finding a sense of purpose and usefulness

Lower numbers of people experiencing mental illnesses like anxiety and depression

Helping to ensure the long-term sustainability of heritage spaces

Heritage sites more accurately reflecting the needs of their communities

Helping communities to grow and develop

Creating intergenerational connections

Financial – the impact for both heritage sites and the NHS.
Government research from 2015, estimated that promoting regular visits to heritage sites and museums could save the NHS nearly £300 million a year because of a related reduction in GP and psychotherapy appointments.
Heritage and well-being at Manchester Monastery
The Monastery aims to become a hub for health and well-being projects in Manchester to become a 'Modern-Day Monastery'. This can be achieved by bringing together heritage, spirituality, and well-being in their space to support their communities.
Originally, The Monastery was the home of Franciscan friars, and these traditional values can be brought to a modern audience to increase overall well-being.
The Monastery can embrace the traditionally religious tools that they have available in their spiritual space for secular purposes. The use of silent spaces – traditionally for prayer and religious worship – can be adapted as venues for mindfulness and meditation, which has been proven to increase overall well-being and decrease feelings of anxiety or stress that are common in modern society.
The future of heritage and well-being
Although there have already been significant developments in the study of heritage and well-being over the last few years, the field still has quite a way to go before it really reaches its full potential.
It's more important than ever to increase accessibility to those who have previously felt excluded because of their socioeconomic status, ethnicity, or even sexual identity.
Many heritage and well-being organisations are already working to increase inclusivity. We can expect many more events and projects that focus on the mental health of the wider community – no matter what their identity may be.
This will help us to better understand how different groups respond to different heritage well-being methods, helping us fine-tune how we create future projects, appraisal styles, and frameworks.
Heritage and well-being case studies
Strawberry Field Spiritual Exploration – The Salvation Army
Previously the site of a Salvation Army children's home – where the young John Lennon played in the grounds – Strawberry Field in Liverpool has many experiences and activities for visitors to participate in.
The core value is to take part in spiritual exploration in heritage and educational settings. With religious and secular beliefs accommodated, the centre has prayer spaces, a gratitude tree, and a general cultivated garden space open for meditation and reflection.
The centre also offers a media guide through the gardens, leading visitors on a reflective walk accompanied by relevant Beatles and John Lennon songs to bring together history and well-being.
Throughout the year, the centre offers workshops and events to allow community groups to come together. Activities can include: socially distanced garden walks with staff members to help combat Covid-19 isolation and loneliness; one on one spiritual guidance; and Reflect, Connect and Chat mornings.
The spiritual visitor journey has increased engagement with spirituality within the local community and increased visitor numbers.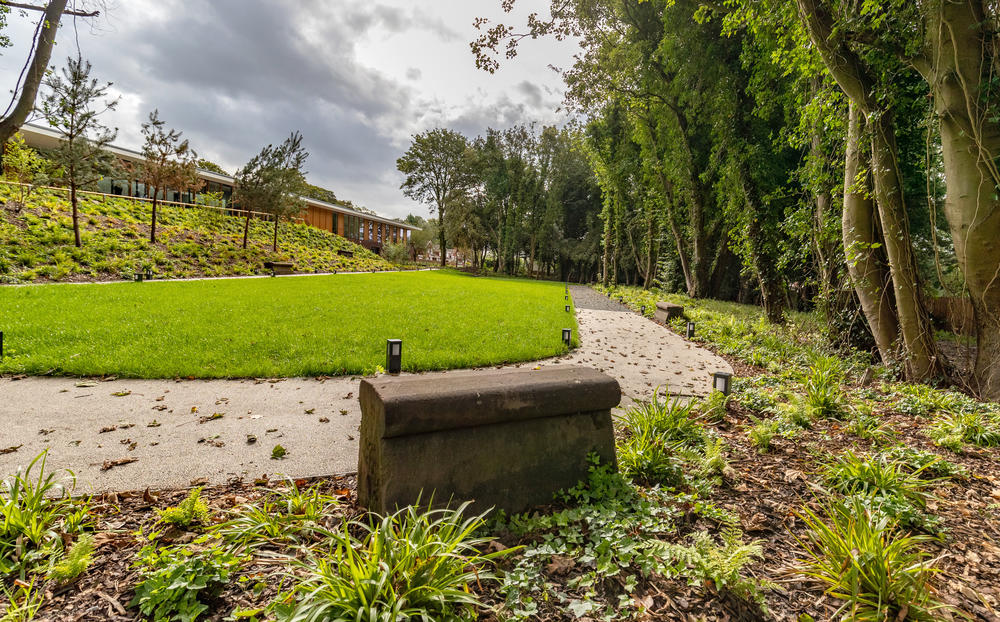 Creative Connections – Gloucester Cathedral
Designed to support adults in recovery and managing mental health issues through artistic expression, Creative Connections (a 12-week art course) was created by Gloucester Cathedral in partnership with Gloucestershire County Council Adult Education Service.
The course (designed for 9 adults referred by the local NHS recovery centre) gave participants productive and positive senses of purpose, helping them cope during their recoveries from depression.
The project coincided with World Suicide Prevention Day and local suicide prevention events to help raise community awareness for mental health issues and the final exhibition was displayed in a free exhibition in the cathedral.
Our student placement at Manchester Monastery
 Emma Gossage
My placement experience at The Monastery has been incredibly insightful, invaluable, and so interesting.
We started the placement in April 2021, when the national restrictions meant that not only was The Monastery closed and all of our university teaching was being done online but also, we were all working from home. This meant that the placement would have to be 'virtual', relying completely on Zoom and Google Drive.
Despite the practical difficulties of not being able to physically come to The Monastery, the staff at The Monastery, particularly Caroline and Jeannine, supported us to undertake research over 10 weeks to build a database on current heritage and well-being projects that could help guide future project and funding priorities.
Having the opportunity and support to undertake this work was invaluable for me. Before starting the placement, I had a limited understanding of well-being and its application to heritage studies or how the two can come together to support communities.
I felt the work was especially important and relevant as we were starting to come out of lockdown and it would begin to address the impact that the pandemic has had on mental and physical well-being.
Being one small part of The Monastery's approach to helping their communities has been such an amazing opportunity and I hope that I will be able to visit The Monastery in person once restrictions are lifted!
Jenny Jackman
The experience has been extremely rewarding on an academic and personal level. Creating the database has unveiled the future possibilities of how mental health can benefit from heritage and community culture, something I was unfamiliar with before the placement.
During the pandemic, we have been relying on different sources in our local areas to help maintain our well-being. The UK has such a wealth of heritage spaces across all regions, it makes sense to use them in new ways to increase community engagement and accessibility.
I am looking forward to many of the benefits I have seen from other projects being applied to the Monastery and the Manchester/Gorton area and hope that our work really helps make an impact. I have thoroughly enjoyed my placement with the team at The Monastery and can't wait to see what they come up with next!
We hope you have enjoyed learning more about the links between heritage and well-being and are just as keen to see future projects from The Monastery that really showcase some of those benefits!
Authors | Emma Gossage & Jenny Jackman  Editor | Dr. Caroline Paige
Emma and Jenny took part in a student placement at Manchester Monastery. If you're looking for a student placement in Manchester, ask your university to contact us.
It's a great way to strengthen your CV and meet others who share your interests.
If you'd like a career in heritage management, take a look at the postgraduate MA course in Cultural Heritage Management that Emma and Jenny are studying at The University of York.