Photo exhibition: Monastery dereliction, art, carvings and light
A 3-minute read
The Monastery is delighted to present a photo exhibition by Graham North, in the Great Nave. It's a remarkable collection, spanning many years of Monastery history, all documented painstakingly by Graham. Many photos have been metamorphosed into intricate geometric designs using a range of techniques.
You can come and browse the photo exhibition any day between Sunday and Thursday, from 10am-4pm. Entrance and parking are free and our onsite café and garden are open.
In the meantime, here is the transcript of an interview with the photographer, with lots of insights into the collection, along with information about equipment and techniques used for any photography aficionados.
---
Qu: What is your connection with the Monastery?
I first visited the monastery in 1999 whilst doing research for my wife (Kath), into her family history as her family had lived in the area since before the monastery was built. Many members of her family had been christened there and some of them went on to get married there.
When we arrived, the monastery had obviously been closed for a number of years, but there was a contact number on a board which we rang and spoke to the Monastery Trust. We were invited to come to a meeting a few days later at a local centre, and we met some of the people who were involved in the trust, and consequently we attended an open day.
Some of the first pictures in my Derelict Monastery exhibition were taken on that first open day visit to the monastery.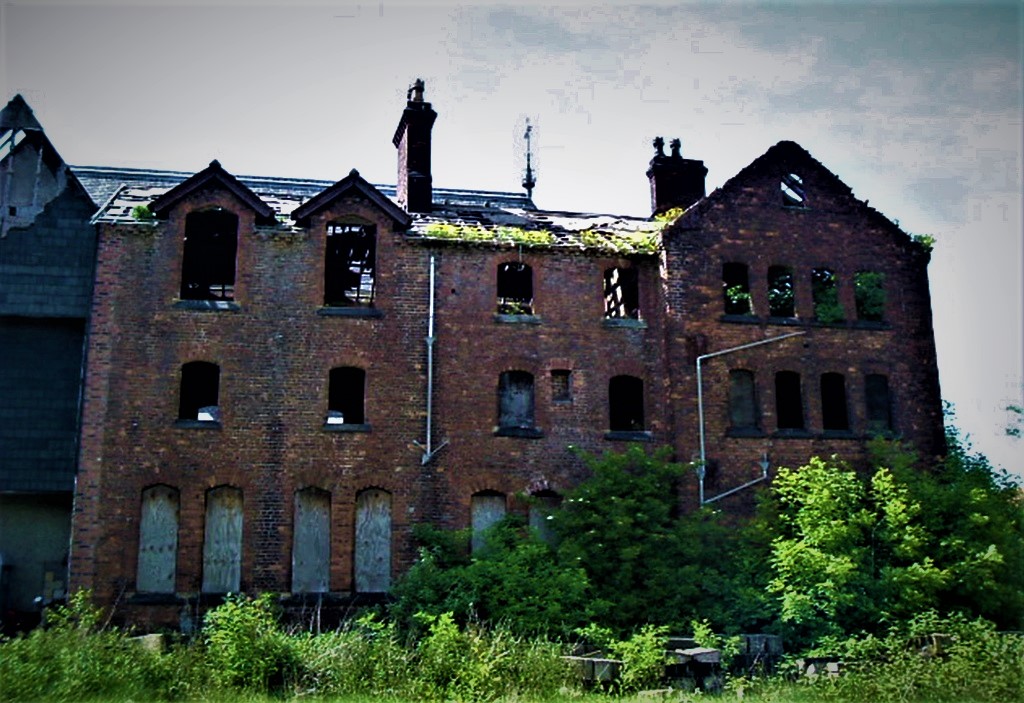 Qu. What inspired your collection?
I have always liked taking photographs of beautiful and impressive buildings and the monastery has these qualities in abundance, especially so when it was in its most derelict state. When I first saw the inside of the building I wanted to take pictures of all the broken altars from every possible angle, and every aspect of the dereliction that I could capture with my camera. This building was a gold mine of beautiful pictures. Even the most unpleasant scenes of decay and destruction held, for me, a great attraction, and all this was almost on my doorstep.
Qu. Can you talk about the techniques you use to create your magical images?
I have a series of pictures which I have called Artfotos. These are pictures that I have taken during the course of events, or just ordinary day to day photos taken in and around the monastery. Some of these photos I have altered in such a way that they might be changed so completely that they are quite difficult to recognise the original picture. It could be the simplest of changes, what I call cut and flip where I crop the picture and copy one half, then flip it over and stitch it on to the original image. I might do this multiple times for one picture. The results can be very effective. I might also use dark or light vignettes to soften or fade out the edges. Another tool I often use is colour saturation which creates vibrant colours. I might also superimpose various extra elements from different pictures, like using Christmas tree lights on a darkened background to create a starry sky effect. Using these tricks I have created some pictures that appear to be taken from outer space. I have had a lot of enjoyment making these pictures, and the only rule that I keep to is that I never use any image or element that has not been taken within the monastery grounds.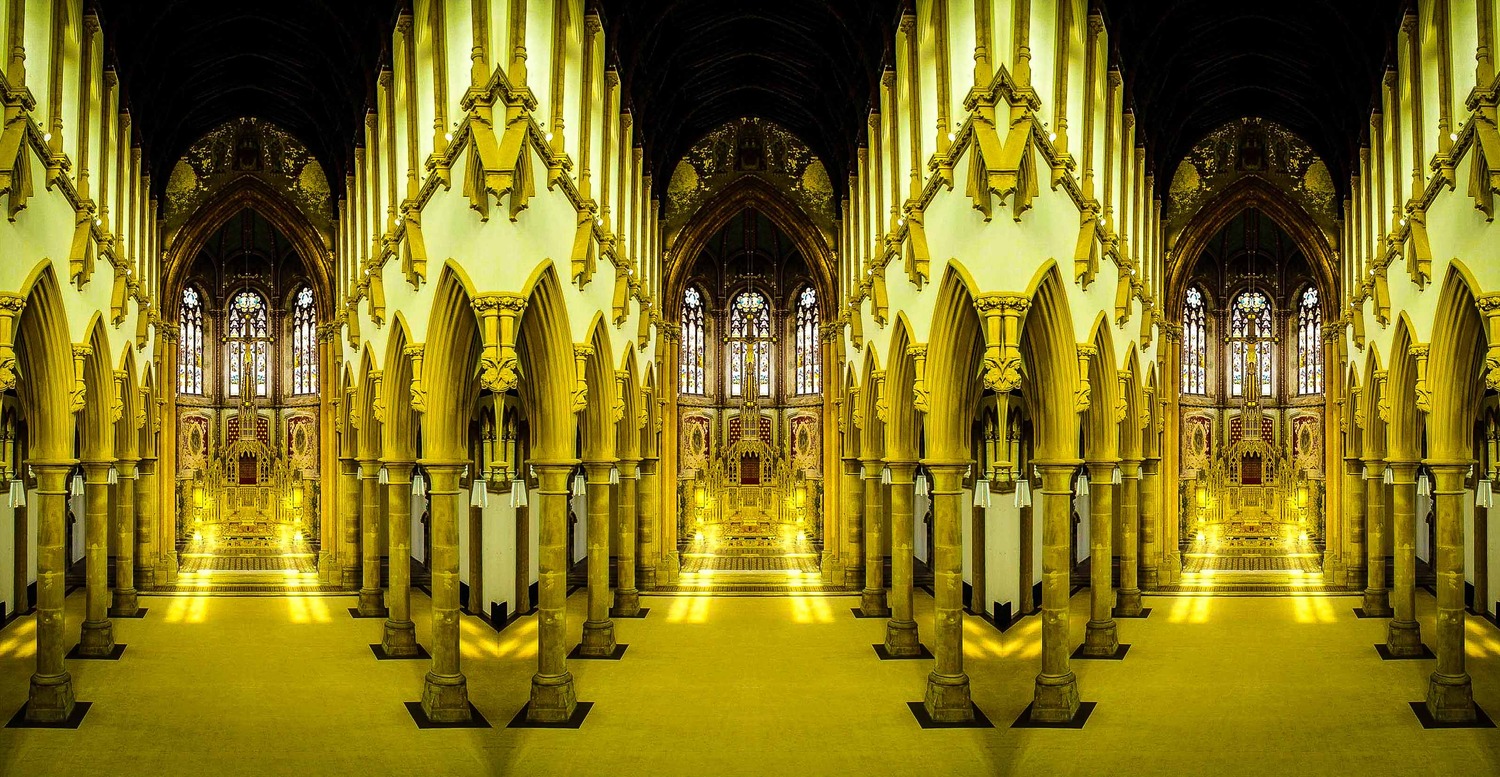 Qu. What camera equipment did you use and why?
When I started taking these pictures I was using a small digital pocket camera made by Fuji, because that was what I had at the time. Most of the 'Derelict Monastery' exhibition was taken with this camera.  After a while I bought a couple of Minolta cameras, models MD5 and MD7, and bought extra lenses from E-bay whenever I could afford them, These cameras were quite large and cumbersome for me so after a few years, when Minolta sold their business to Sony, I changed to the smaller but better quality Sony cameras, I still use these quite often but have also bought a Nikon which is now my most versatile camera.
For digital development of photos I use mainly Windows standard computer software, and sometimes for the Artfotos I use Lightroom, which I have an old basic version of, I don't use it that very often, as I only have it on an old laptop which is about fifteen years old.
I find the most useful tool is the ability to see the pictures in my head before I take them. I try to imagine not just the subject but the background of any photo before I take the picture. I think that if you have your frame set straight, in focus, and centralised, remembering that the background is just as important as the subject, then you have the makings of a really good picture.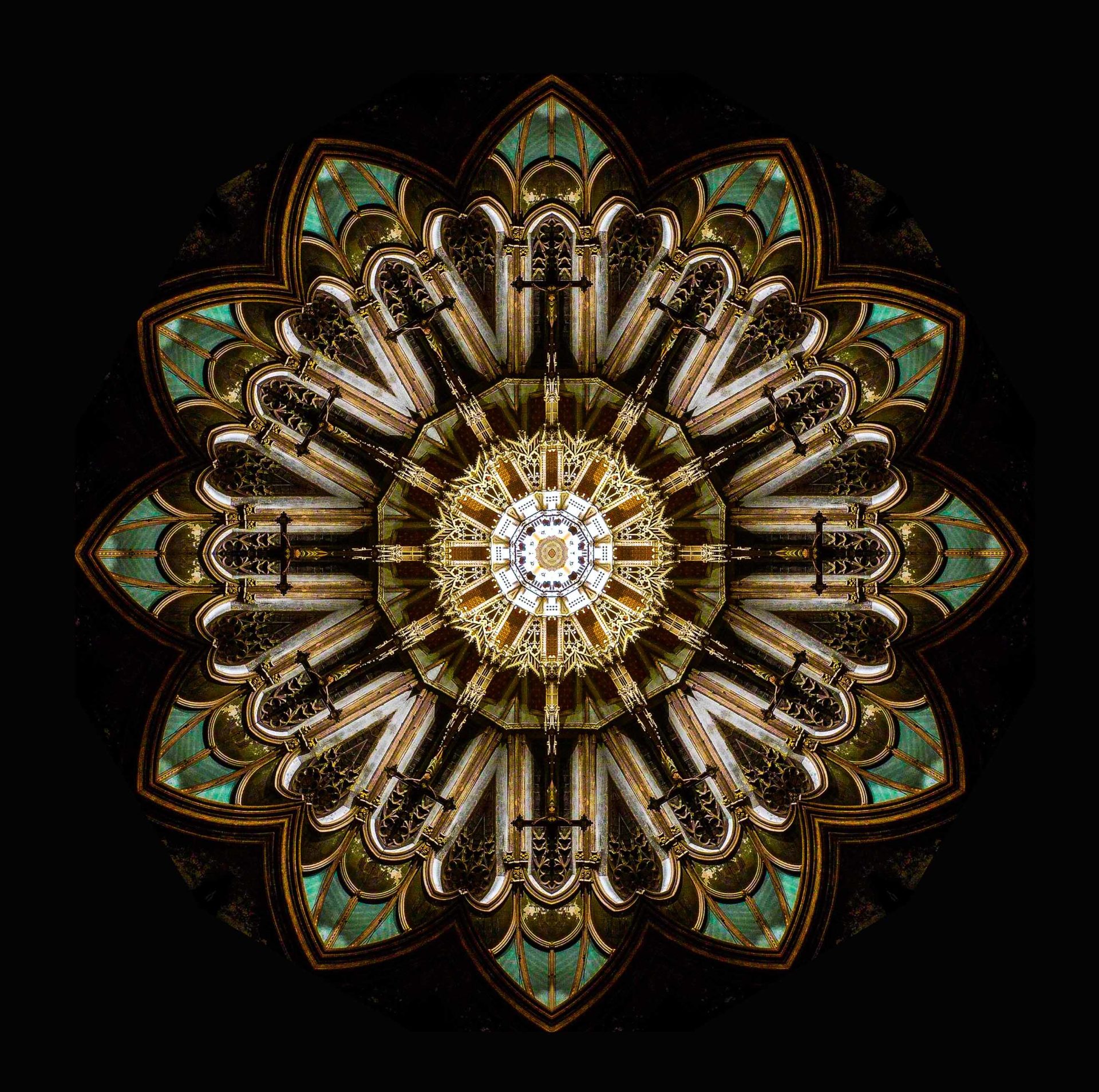 Qu. How long is the exhibition on show for?
The exhibitions are usually on show from Sundays through to Thursdays during the regular monastery open days, unless we have to remove them to make way for special services or events in the monastery.
Qu. How many photos are in the exhibition?
This can vary, as I occasionally make changes and updates to the exhibitions. There are usually four separate categories,
1. The derelict monastery
a series showing the monastery when it was in its derelict state before the restoration work started.
2. Artfotos in the monastery
these pictures have been changed to create imaginary views within the monastery.
3. Trick of the light
a set of photos showing various light effects either purposely generated by the structure of the building, or created unintentionally by shadows, or actions during events in the monastery.
4. Carvings around the Monastery
Photos taken during a journey around the roof of the monastery from the cradle of a high cherry picker as it made its way around the monastery.
All these exhibitions consist of frames each containing two or three photos. In total there are about forty five frames, so there could be in excess of 100 pictures.
Qu. How many years do they span?
I started taking these photos in 1999 and have continued taking them since then, so it is pretty much an ongoing project.
---
Many thanks to Graham North for sharing his artwork with the community, please feel free to come and explore.