Dementia care Manchester: Music Café at Manchester Monastery is in the news
Looking for dementia care in Manchester?
We're excited to host this new workshop for people living with dementia and their carers.
Music Café provides free weekly music-making sessions created and run by the Manchester Camerata orchestra.
They're well-known for innovative collaborations and you could hear them playing dance anthems as well as classical orchestral works.
They pop up in all sorts of places. They're just as at home playing in care homes as they are grand concert halls.
Quick facts
What? Free music-making workshops
Where? The Great Nave at Manchester Monastery
When? Sessions take place on Wednesdays from 10.30 to 12.00
Who? These workshops are for people living with dementia and carers
How? Contact Emma Arnold for more information at earnold@manchestercamerata.com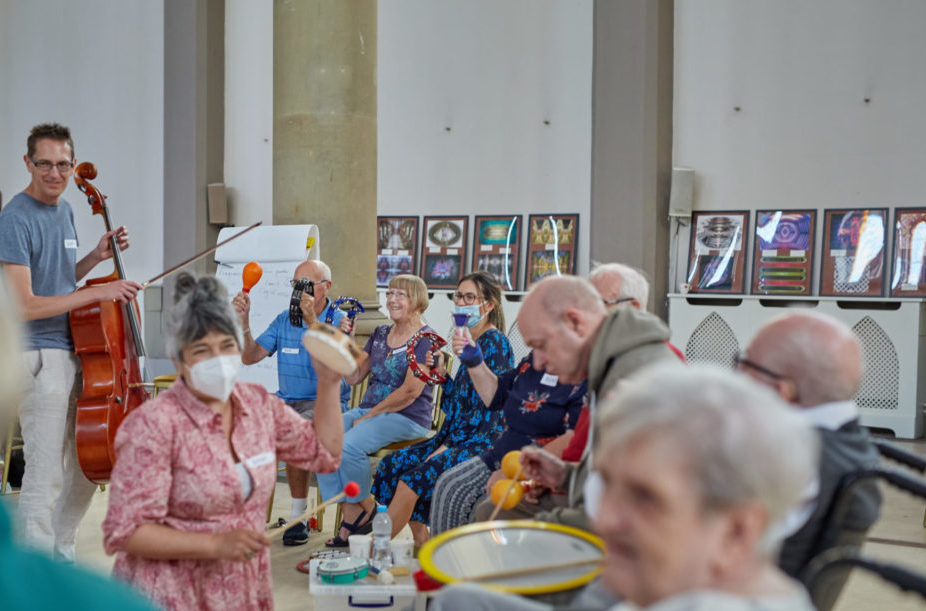 Music Café at Manchester Monastery
Manchester Camerata's music workshops at Manchester Monastery give those with dementia an opportunity to reconnect with their love of music.
It's a joy to see the change in people attending the sessions. A loosely held maraca or drumstick soon finds itself in a stronger grip. Passive or uncertain shaking and beating changes to rhythm finding music-making.
All this happens in the beauty of our Great Nave. A special location for a special event.
Memories of music and movement are rekindled and the friendly atmosphere encourages spontaneity. Perhaps encouraged by the open space, some people find they want to move to the music that fills the nave.
Dancing (at first it was impromptu) has become an important part of the session for some participants.
If you're a carer, the Music Café is a great opportunity to meet other people. Enjoy a little respite and see your loved ones being looked after too.
There's plenty of time to get a free cuppa and have a chat with other carers over a biscuit (or two).
The support doesn't end when the session ends. You can learn how to use music at home to keep the fun going.
Music and dementia
Research shows that music can provide emotional benefits for people with dementia.
Often, people can remember songs and music learnt many years ago. The therapeutic benefits of unlocking these memories is an increasingly important part of dementia care.
Music is a powerful way to bring people together. It can reconnect people with their loved ones by reducing anxiety and encouraging social and communication skills.
Music therapy can help people with dementia soothe their symptoms.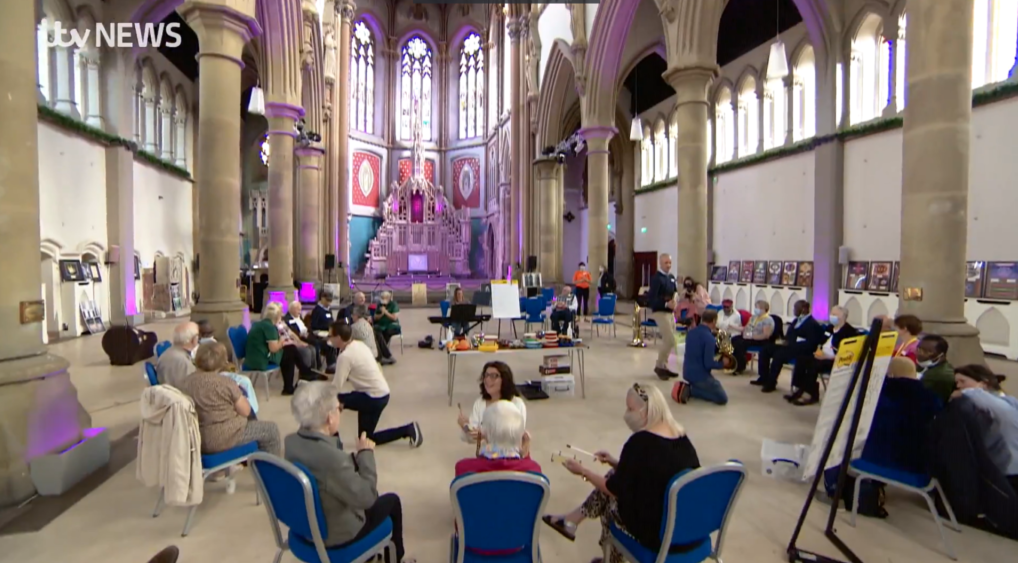 'Simple, effective and often magical': Music Café on ITV news
After hearing about the high-quality dementia care available at the Monastery, ITV spent the day here to find out more.
Impressed by the quality of the free music-making workshops ITV chose to feature it on the news to spread the word to their viewers.
Watch the news report and read the full story here.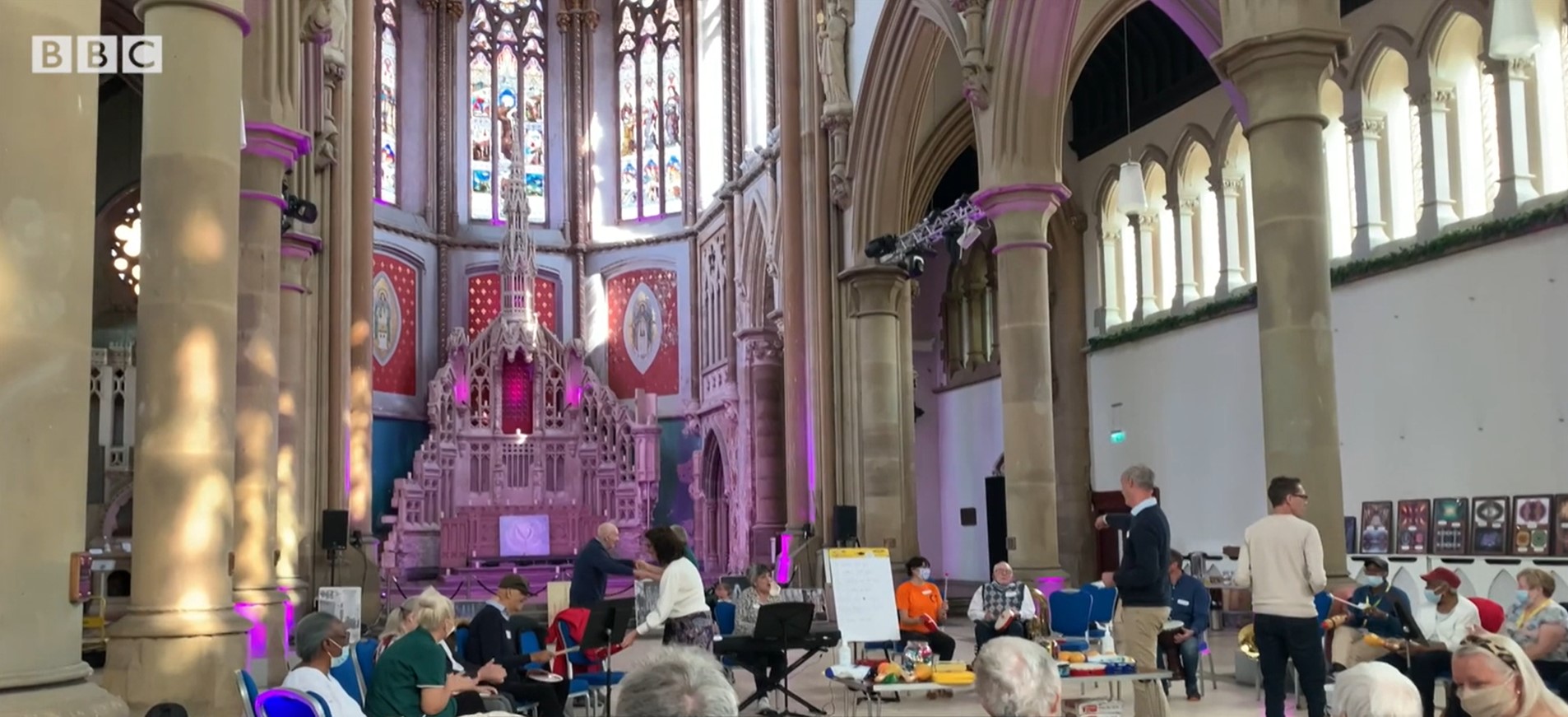 Manchester Music Café brings joy to people with dementia
The outstanding dementia care provided by the Music Café featured on the BBC news too!
The BBC spoke to Bob Riley, the CEO of Manchester Camerata, to find out more about the orchestra's pioneering music-based dementia therapy.
He describes the sessions at Manchester Monastery as, 'All about improvisation, so there's no right, there's no wrong and anybody can do it'.
See Bob's interview and the full BBC report here.
Interested in coming to the Music Café?
Manchester Camerata (based here at Manchester Monastery) plan, create, and deliver all aspects of the Music Café as part of their Music in Mind initiative.
Find out more about the Camerata and their Music Café here.
Or contact Emma Arnold for more information at earnold@manchestercamerata.com.
Words| Caroline Paige  Photography| Duncan Elliot (unless BBC or ITV watermark)