This week we had a visit from two wonderful ladies who went to school at St Francis Primary and Secondary School in Gorton, Manchester, during the late 60's and seventies. The school was located next to the Monastery and children regularly came in for mass and services as part of their curriculum, so strong memories naturally arise when they see images of the place both as it was, and what it represents for them now.
Suzanne Garside and Karen Beswick vividly recalled many moments of their childhood whilst on a visit yesterday, and lovingly re-created the fabulous image featured in today's blog post, highlighting the passage of time in the most poignant of ways.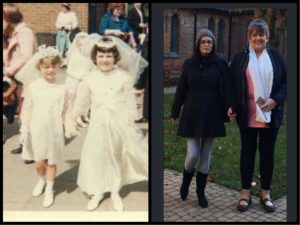 Some years ago, before Facebook took off, a website launched called Friends Reunited; anyone remember that? The site didn't take off as it was paid site which many found user unfriendly and awkward, but then came Facebook. Love it or loathe it, Facebook has a great capacity to connect people all over the world who have shared interests, and so the groups "I attended St Francis Secondary School" and the corresponding group for the primary school finally found a platform from which to share memories, stories and experiences of both the school and the locality after a reunion had been well attended and the former pupils wanted a way to stay connected and share more.
Listening to these two women speak of the vivid memories of the Franciscan friars was fantastic for those of us who weren't here at the time, but know and love the Monastery as it stands today. Parents wanting their children to behave would find that "I'll get the Priest on you" frightened more children into obedience than "I'll get the bobbies on you"! The friars (they were never actually priests) ranged from open armed and welcoming, to stern and somewhat strict and severe in character, so the leverage gained by many parents was certainly well exploited!
Suzanne's memories began before the age of seven when she recalls walking up Gorton Lane (where the Monastery is sited) from Peacock Street to come to Midnight Mass. As a small child never usually allowed to stay up that late, coming into the packed Nave was a memory strong enough that even the names of the fathers are called to mind some 50 years later. Father Theodore, Father Ronald, Father Fabien and Father Vincent, along with Brother Dennis who later became Brother Gerard all sprang to mind with great fondness. Brother Gerard would always greet people with open arms, patting the children on the head and saying "Hello Little Lambs!" Father Vincent would visit houses in the local community and offer blessings on the home and ask how people were – communities were strong then and the brown robes of the friars, belted by a simple cord containing 3 knots, each representing poverty, chastity and obedience, carried their simple message far and wide. Many brothers and friars could also be found in the local social club enjoying an occasional warming brandy or two!
Children were expected to come in for the 9:00am weekend mass which was known as the child's mass. Parents would ask their children "what colour robes did the priest have on today?" and if the answer was wrong (the friars changed colours every Sunday), children would get "a clip round the ear" and be strongly chastised for skiving off service to play! Children however, being very inventive, would sneak in to see the colour of the robes then nip off to the park to play anyway!
Saints days were known as Holy Days of Obligation and the whole school would attend a service here. Confessional booths would buzz with children going in confessing sins and coming straight into the Nave to offer their Hail Mary's and penance without missing a single prayer for fear of the consequences! During mass boys and girls would sit on separate sides of the Nave and receive communion which often took hours when numbers were at their highest, and a table at the back of the Nave would sell Rosaries, Troubadour and St. Christopher necklaces to raise funds for Biafra, showing that even then the Friars concerned themselves with supporting worldly matters of suffering.
There were colouring pages for the children and a regular newsletter you could pick up in church; another way parents could ascertain if their children had actually been to church when they were supposed to, because going home without one would indicate not!
Many young children claim to have seen a ghost or two walking into certain parts of the cloisters which added to the overall sense of both mystery and fear some children had of such a large and majestic building run by those responsible for their spiritual and pastoral care.
Coming back in brings back these memories as if it were yesterday and we love to hear these animated stories of life at the Monastery in the past. Do you have any stories to share? If so, please get in touch with us and share – steph.wilcock@themonastery.co.uk or emma.bryning@themonastery.co.uk
You are always welcome to visit us though please check our website 'Plan Your Visit' page for updated opening and closing information as public access may be limited on certain days.
Grateful thanks to Suzanne and Karen for your time and memories – we hope you enjoyed your visit.